The new Groningen Drenthe concession started a year ago. In what was a record at the time, almost 150 new electric buses were included in the schedule. Operator Qbuzz chose sixty electric vehicles from Dutch bus manufacturer Ebusco for its regional transport. These buses have now covered a total of 5.6 million kilometres, or gone 140 times round the world.
This means that the buses are performing better than expected, even though the fleet had to be stopped in the spring because of Covid measures. "After that, the electric buses started running more than they had before Covid," says Steven van der Burg, key account manager at Ebusco. "This gives you an idea of what an electric bus can actually do." He believes the pandemic presented an opportunity in this respect, and Groningen Drenthe serves as an example for other European countries to follow.
More kilometres due to Covid
Qbuzz's decision to acquire a significant number of electric buses for its local public transport was quite unique, according to Van der Burg. The range was maximised by cleverly deploying the vehicles on routes with split shifts. This proved even more helpful when timetables were optimised due to Covid, with fewer opportunities for interim charging.
"You'd think you would run out of power. In fact the opposite happened: they covered a lot more kilometres than they would have done normally." In this case too, according to the account manager, the decision to go electric was 'quite simply' more attractive from a cost point of view compared with diesel buses. The buses now cover an average of 350 to 375 kilometres a day, with peaks of up to 500 kilometres.
CO2 saving
Ebusco monitors performance of the buses closely, meaning that they are collecting a lot of data. From this data, they can tell, for example, how much CO2 has been saved in the last year compared with using diesel buses.
(Text continues below the image)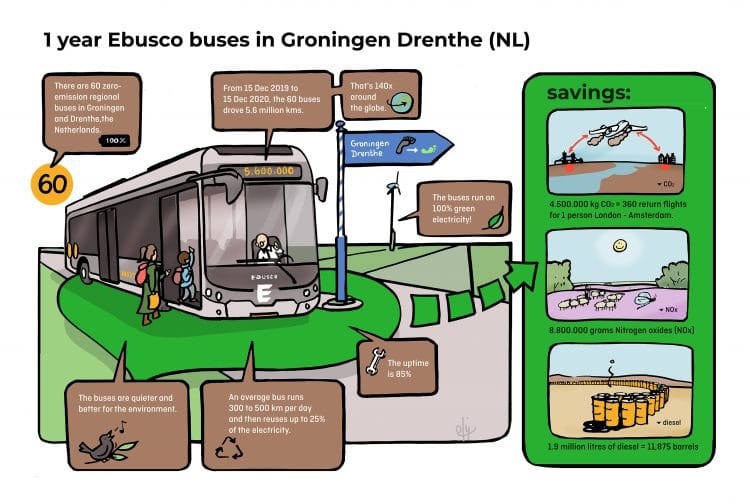 Success in the Netherlands
In the Netherlands, you no longer have to convince anyone of the success and potential of zero-emission public transport. However, this is not yet the case in all European countries, according to Van der Burg. "There is some hesitation around. Public transport companies are afraid they can only cover 60,000 to 70,000 kilometres per year with electric buses. In Groningen Drenthe, they have shown they can cover 110,000 km or even more per year."
He expects that these routes represent the optimum for the Ebusco 2.2. Because they are getting the maximum number of kilometres out of the buses, Ebusco is able to use Groningen Drenthe as a practical example for other European operators. "This also shows that you can go green on a large scale – not with ten buses or one route, but with a complete concession of sixty buses." To ensure this is also attractive from a cost perspective, the manufacturer uses plug-in charging. "It's not that we're against opportunity charging, but the charging infrastructure is always more expensive."
Green transition
"There are so many advantages that it actually becomes a 'no-brainer' for operators to opt for electric," says Van der Burg, mentioning – among other things – the 'enormous' technical advances that have been achieved. What is more, these electric buses offer passengers more comfort and luxury, such as extra seats, more legroom, USB ports and WiFi. "The only counter-argument is cost. If you can show that these buses are actually cheaper to operate, an operator will always opt for the green transition."
Van der Burg adds: "In the Netherlands, operators are daring to stick their neck out and we are achieving great results. These 'best cases' can easily be reproduced elsewhere in Europe in order to accelerate the transition there."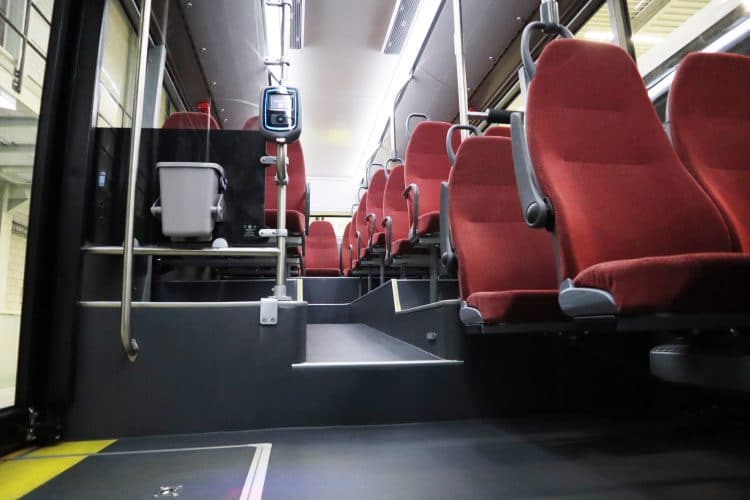 Source: OV pro
Author: Dylan Metselaar