Ebusco® Live
monitoring system
Ebusco Live is the real-time monitoring system for all buses. It shows among other things the battery status and the average efficiency. These data are essential for bodies granting concessions and for operators in order to optimise the operation of electric buses as regards range, efficiency, emission reduction and performance. Drivers can be educated with the data gathered while driving and routes can be adjusted following detailed review of the current practical range. The insights provided into emission reduction can be valuable for both political and public perceptions of zero emission results through the use of electric buses.
Ebusco offers the Ebusco® Live online monitoring system on all its buses. This monitoring system measures various things:
Real-time monitoring of the buses
Parameter analysis
Performance reports
Cell voltages
Management reports
Route log
Real-time monitoring
Online overview of the current status of all electric buses. This enables the operator to see in real time the location, status (active errors and/or alerts), battery status and average efficiency of the buses.

Parameter analysis
With Ebusco Live it is possible to analyse every parameter in the electric bus down to the millisecond. The parameters can be set in accordance with the operator's wishes, such as efficiency, drivability, SOC, time, battery, energy, etc.). This makes finding the causes of particular problems easy and fast.
Particularly in the introductory phase of the electric bus, this functionality is a 'must have' that has already been described by many operators as indispensable.
Performance reports
Operational, emission and energy statistics are displayed during the day in the vehicle performance dashboard. The results are stored for several weeks and are always accessible.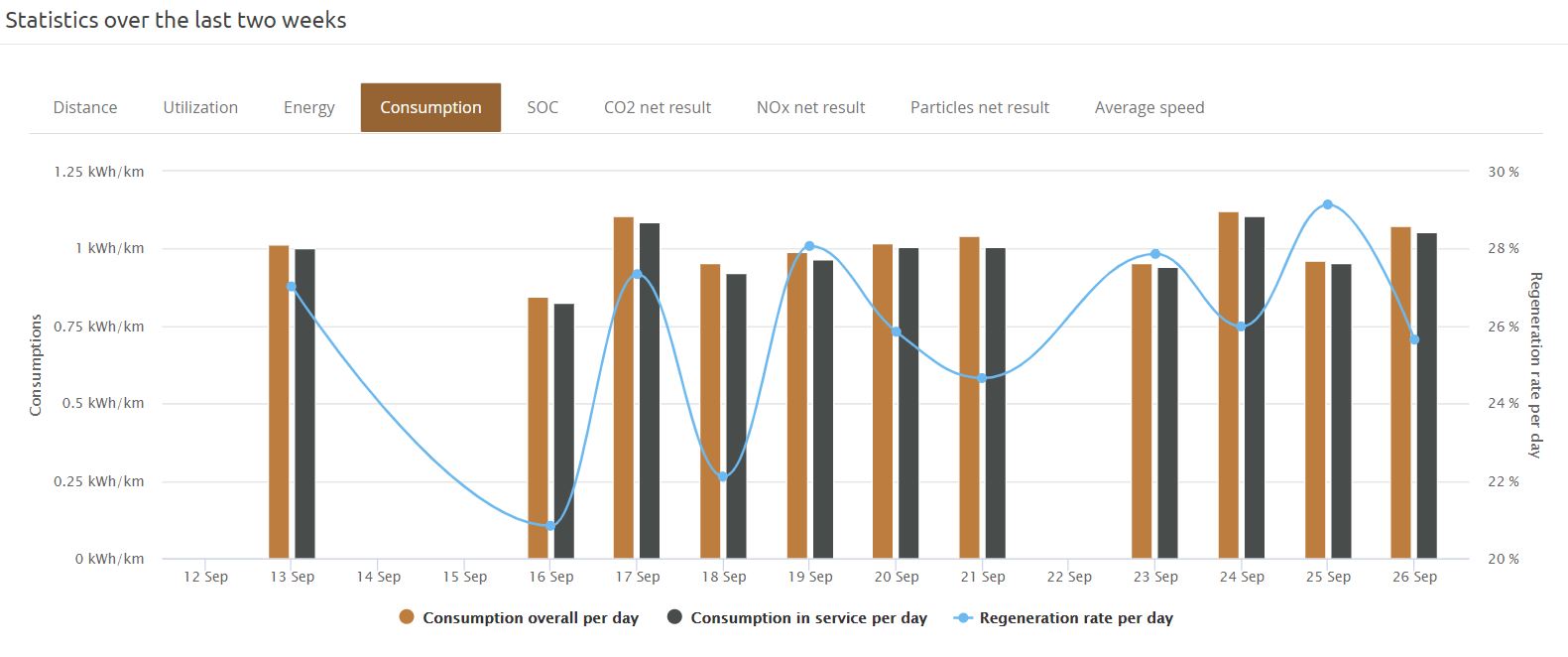 Cell voltages
Ebusco is the first bus manufacturer to be able to show the voltage of each battery cell down to a thousandth of a volt. Insight into all these independent cell voltages is crucial for reliable operation.
Management reports
With this function detailed management reports can be drawn up, with KPIs such as consumption and efficiency in each set of circumstances. The real-time insights that can be created with this are endless. The aim is simple: further optimisation for daily use.
Route log
The route log enables operators to see all the information on the routes that are covered daily.
With this information new routes and circumstances can be tested, for example. This real-time information can also be used to optimise energy consumption on particular routes.
In short: Ebusco Live is in our opinion an indispensable monitoring system with which current data is constantly available in real time and operators can make continuous improvements.
Interested in a demo of Ebusco Live? Please contact us.