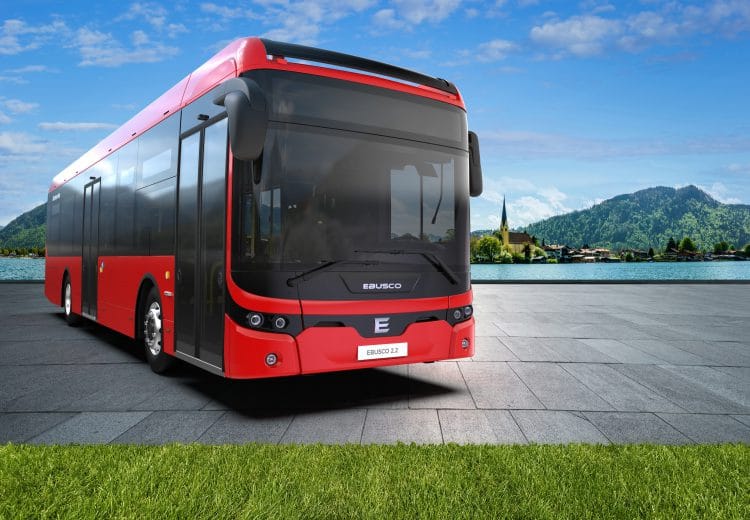 In March 2021 Ebusco will deliver 4 new electric buses to the district town of Bad Tölz. These are the first electric buses to be used in the region Oberland in Germany. The buses will be stationed there from mid March 2021. Each bus will cover an average of 60,000 kilometres per year. This will save 240,000 kg CO2 per year. This will lead to an improvement in air quality.
"It is nice to see that Bad Tölz also chose for sustainable public transport," said Peter Bijvelds (CEO Ebusco). "We are proud that soon 4 Ebusco buses will be running through this beautiful community and that more and more German public transport companies have confidence in Ebusco. At the beginning of 2021, 38 buses will be operating in 7 different regions in Germany".
In Bad Tölz the two-door electric bus type Ebusco 2.2 will be put into service. The buses are designed that they only need to be connected to the depot at night, as they have a range of over 350 km with a single battery charge. In this way they can provide their daily services without the need for opportunity charging with a pantograph.
In addition to Bad Tölz, several new Ebusco 2.2 E buses will be in operation in other parts of Germany in the coming months. In October 8 new buses were put into service in Munich and from December 13 buses in Frankfurt and 4 buses in Bonn will contribute to a more sustainable public transport system.
About Ebusco 2.2
The Ebusco 2.2 is a proven electric bus and has already proven its success in several German cities (including Munich, Eisenach and the island of Borkum) and in Dutch cities (such as Groningen, Dordrecht and Utrecht). By the end of 2020, 156 more buses operated by Transdev Netherlands will be in service in the Dutch regions of Haarlem and Amsterdam.
Ebusco's electric buses are powered by LFP batteries. This is the safest and best battery available. Furthermore, Ebusco is constantly working to reduce the weight of the bus. The combination of a high-quality battery, low weight and innovative technology ensures that the Ebusco 2.2 can travel up to 350 km on a single battery charge.