Corporate
Social Responsibility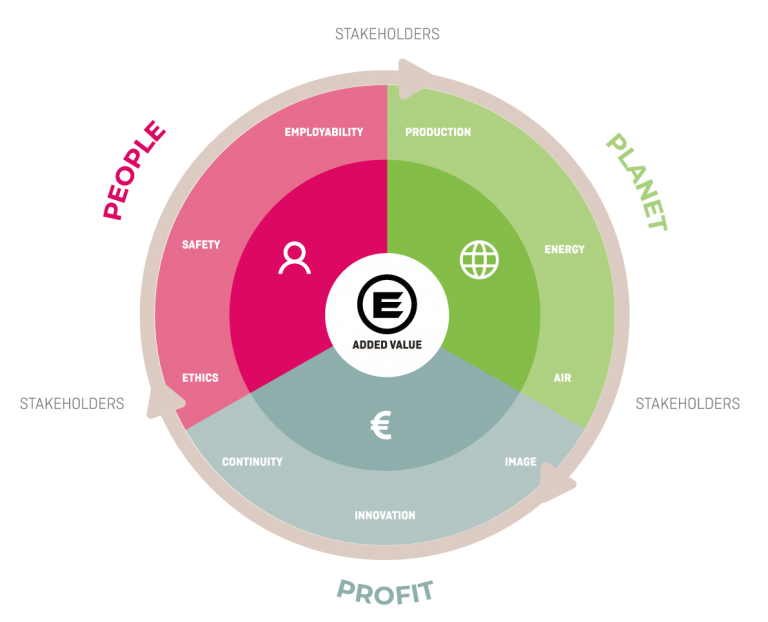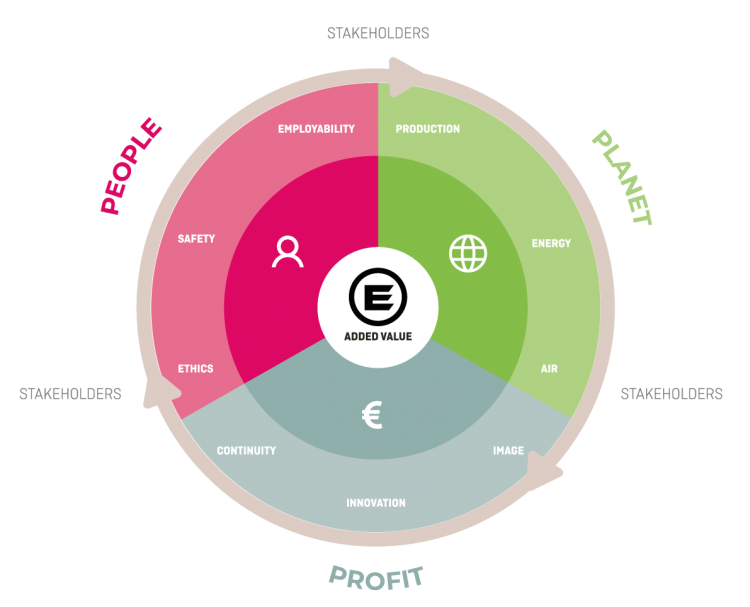 Corporate Social Responsibility is an important fundamental and strategic pillar of Ebusco. The Sustainable Development Goals are fully included and SMART specified in our company policy.
Ebusco's role in the energy transition
Ebusco wants to play a leading, innovating and managing role in the transition of energy in public transport, everywhere on this planet.
To realize this, Ebusco takes seriously responsibility for the effects of our company activities on people and environment.
Shareholders
Our shareholders ING Corporate Investments and Van der Valk Investments also expect this from us. Their shareholding is all about sustainable development of mobility by further boosting and accelerating the energy transition via Ebusco.
People
Employability
Taking care of people
'Lifelong learning' has become a necessity in this time of rapid changes. This does not only apply to our current employees, but also to those people who are still distant from the labor market. That is why Ebusco invests heavily in its own and new people. In recent years, substantial investments have been made in hiring new talent and in our current employees. When hiring new people, we also consciously look at those in society who need that extra push.
Returners
Ebusco has contacts with the UWV (Employee Insurance Agency) and municipalities about being able to contribute to the reintegration of disabled people with a disability benefit (WAO) or WIA status for which Ebusco has created a number of jobs and of which 2 have already been filled in.
Personal development
Ebusco believes it's very important to invest in the growth and development of its employees. Training courses are offered in the fields of technology, personal development and language. In addition, the Executive Board of Ebusco pays a lot of attention to personal coaching.
Young disabled
There is also room for young disabled people at Ebusco and adjustments are made where necessary. In our young organization we've adapted a number of workplaces for this reason.
Refugees
Ebusco is talking to the municipality to see if we can mean something for refugees who are established and are allowed to work.
Safety
Taking care of people
Safety is key
Safety is key in everything we do at Ebusco. Safety is not just about physical and/or arbo safety at work. We feel it's important our people really feel safe. People must be able to say and think along what they want. Only in this way can we optimum make use of the many talents that we have in-house. Everyone counts at Ebusco.
Safe workplace
The usual performance indicators are all implemented, measured and acted upon. Naturally Ebusco has access to all data that can be expected at our company and is actively controlled via our safety board.
These safety KPIs apply not only to our locations in the Netherlands but also to our facilities elsewhere in the world.
Ethics
Code of conduct
At Ebusco, our code of conduct is anchored in our core values* and are they are guiding us in how we work together, how we behave towards customers, stakeholders and society.
Everyone in the company is accountable for this.
We have agreed with each other that we all have an obligation to address to each other if something is not in line with the core values. If that does not offer a solution, we have our internal confidential adviser.
Contributing to charity
Cliniclowns
Ebusco collects old batteries and cartridges for Cliniclowns to be able to contribute to providing distraction and fun for sick children and people with dementia.
Invest in community involvement and development
Business and career days
Ebusco participates in business- and career days within the municipality of Deurne and training institutions, for more involvement within the community and supporting students in making their career choices.
Offering safe transportation to and from schools
Ebusco regularly uses buses to help schools to deliver a fun and educational day outside of the school location to their students.
Internship opportunities
Ebusco offers internships and graduation places to students from schools at all levels and offers every student the guidance that is needed for the internship assignment that matches the student's objectives in terms of technology and personal development.
Planet
Energy
Taking care of our planet
Energy
Ebusco delivers an important contribution to the energy transition with her products (what is totally logical).  Of course this is a very important contribution to the energy transition of public transport.
But Ebusco goes further than that. Ebusco is also working hard to become completely climate neutral with its own energy management. There are concrete plans for all activities to be emission neutral by using only Zero Emission vehicles, solar panels on our depots and collecting and reusing rainwater.
Production
The Ebusco production process must take place in such a way that we can truly say that we are working 'cradle to cradle' by constantly improving our sustainable product.
This applies not only to the components that we use, their origin, but also to our locations.
The components used in our vehicles are all critically reviewed and where possible replaced by components with a better "cradle to cradle" coefficient.
For example, our battery solutions are not dependent on Cobalt, but are actually made out of phosphates. This is in contrast to other manufacturers of Zero Emission vehicles.
Air
Air quality is a hugely important factor for the health and quality of life in our environment. The emission of our Ebusco vehicles delivers a significant positive contribution to the living environment. Not only by not using traditional fuels, but also because the electric motor emits so much cleaner and hardly any fine dust and NOx.
Profit
Continuity
The continuity of the company is most important to being able to continue to do what we believe in "making an important contribution to the energy transition of public transport".
We are a reliable partner where our shareholders truly believe in. It is not without a reason that they have committed themselves to Ebusco; because they believe in our product and in our performance. They are the parties that guarantee our continuity and invest in us because they also subscribe to Ebusco's strategy and want to contribute to it.
ING Corporate Investments is an important player in financing the public transportation sector. It is important when we achieve our objectives that our activities generate profit, in order to further develop our products and to continue with the necessary innovations.
Innovation
Innovation is in our genes
The energy transition still has a long way to go. Whoever stands still, falls behind. Ebusco is constantly working to improve her solutions, also witness the continuous range of improvements that we make on our battery packages. Also on the weight of our buses is being worked by applying composite. This makes our buses much lighter, they make use of less energy and the performance per kWh will increase.
Innovations are also implemented through the intensive use of data analytics. This makes it possible to develop vehicles that are better suited to the market and that lead to higher customer satisfaction and increased usage.
Image
Ebusco has a great image: a young and energetic company with an actual contribution to a better world. But the reputation is as good as the last contact with the customer and traveler. That is precisely why Ebusco is so careful with its image and will do everything to preserve and improve its image.
Ebusco conducts an annual customer satisfaction and reputation survey, done by an independent agency so annuality is guaranteed. This research should determine where Ebusco is doing well, but certainly where it can be improved. Our core values are leading in this.
Safety KPI's
Measuring safety in the workplace

Number of Reported Accidents & Incidents
This 'lagging indicator' is a pretty obvious one, but it really gives a high-level benchmark to the organization in terms of knowing if safety is improving or worsening. In addition to monitoring the number of accidents/incidents, you'll probably also want to convert this number to a ratio per employee – i.e. 0.001 accidents per employee. Keep an extra close eye on this Health & Safety KPI during times of change – new processes, new machines, etc.

Measuring health in the workplace

Employee Perception of Management Commitment
This KPI is usually measured through regular surveys. These allow an organization to understand if employees feel that what they do on a daily basis and the management objectives are on the same path. People tend follow procedures and instructions better if they see a connection in what they do and 'the big picture'. It's a little like running an NPS for employees.
Lost Time Injury Frequency Rate
This refers to the number of lost time injuries that happen per million hours worked. So a 'LTIFR' of 8, would mean that 8 lost time injuries take place every million hours worked. To work out the LTIFR you multiply the the number of lost time injuries by 1,000,000 then divide that number by the total number of hours worked in an organization. So if you have 8 lost time injuries and 3 million hours worked, your LTIFR is 2.6.
Average Overtime Hours Per Person
This average is a great KPI to help measure the average time worked by someone beyond their normal working hours. The idea is that if you keep this number low, it can mean that an organization is successfully managing workload and reducing the chance of fatigue in the workplace. You do want to be careful with this KPI, as it is not applicable to all types of organizations and the definition of 'overtime' will vary per organization.
Lost Time Injury Incidence Rate
This measures the events that occur over a standard period of time by a standard number of people. So if we want to calculate the 'LTIIR' (Lost Time Injury Incidence Rate) for 1,000 people, we multiply the number of incidents by 100, then divide it by ne number of people. So let's say we have 3 incidents. 3 x 100 = 300. Divide that by the number of people and we get a LTIIR of 0.3. So for every 100 people, an organization would have a 0.3 LTIs.
Satisfaction With Environment Score
This is something that would be measured as part of an eNPS survey. It involves obtaining employee feedback on several levels, including how satisfied they are with their physical surroundings (desk, office, noise levels, building, toilets, greenery, etc…), right through to their emotional environment. Low scores might indicate issues with that are adversely affecting the health (physical but more likely mental) of your employees.
% of Management Trained in Health & Safety
This simple leading indicator will help you avoid many of the accidents and incidents that might otherwise occur. It also helps you to understand the effectiveness of your training programs. It's up to you to define what that health and safety looks like, but once you've done that, it's a simple case of measuring how many managers have undergone it and expressing that as a percentage. You can do the same thing for all employees if you want to.
Equipment Breakdowns
By measuring the number of equipment breakdown and creating a goal to improve this number, you affect both safety and production, since often when critical equipment breaks down, there is a loss of activity. Most importantly, this is a strong lead indicator that will play a huge role in the reduction of incidents, since a large percentage of incidents happen due to the state of the equipment used.
Fitness Assessments
Offering free health checks in the workplace and monitoring the results can have a positive effect on both the individual, and the workplace. If an independent assessor is used, staff will benefit from the reviews, but an organization can have an overall understanding of the health level as a team, and proactively work to change this, introducing programs and improving the physical environment. Measure the success of such programs via KPIs that look at take-up and satisfaction levels.
Average Time To Resolution of Risks & Issues
If you're using a platform your help you manage risks and issues (which in many cases will be directly linked to health and safety incidents), you'll be able to measure how long it takes you on average to resolve these issues from the time that they're first reported. For example if someone reports loose cabling in a certain part of the office – how long did it take for this to be investigated and resolved? [Hint – Cascade can help you capture risk and issues, give it a try!]

Measuring the efficiency of your health and safety processes

Monthly Health and Safety Prevention Costs
This is the expenditure that will be aimed at minimizing health and safety hazards within an organization. It will include trainings as well as inspections and audits that will be aimed at offering conducive and safe working conditions.
Productive Days %
This is a nice twist on the more negative approach of measuring things like sick days and time off work due to accidents. It flips those KPIs into a more positive approach of celebrating the number of days of productive work that were successfully delivered as a percentage of the total available working time. For example if your organization had 10 employees and there were only 5 days lost due to health and safety issues, your Productive Days % would be 99.86% ((3645 days / 3650 available days) x 100 = 99.86%).