ZES chooses Ebusco energy containers to make inland navigation more sustainable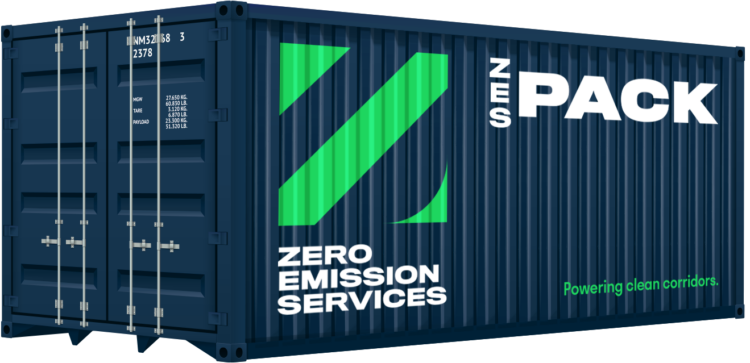 Deurne, 28 March 2023 – Ebusco (Euronext: EBUS), a pioneer and frontrunner in the development of electric buses, charging systems and Energy Storage Solutions, announces today that it has received a contract from Zero Emission Services (ZES) to deliver 20 mobile energy containers. The first 9 containers will be delivered by the end of 2023, while the remaining 11 containers will be delivered in 2024 at the latest. Delivery of the 11 containers can be accelerated depending on the roll out of ZES.
Following a commercial tender, ZES awarded Ebusco a contract for so called ZESpacks. ZESpacks are developed specifically for usage in (hybrid) electric barges, thereby contributing to the European Commission's recent decision to reduce CO2 emissions in the maritime sector by 80 per cent by 2050. ZESpacks are a purpose build solution offered by Ebusco based on its long-established experience with heavy-duty batteries and battery management systems. Each ZESpack can store a total of 2.9 MWh of energy, bringing the total capacity of this order to 58 MWh.
Following delivery of the ZESpacks, ZES will deploy these new units at both existing and to be established docking stations throughout the Netherlands. When the containers are not deployed on a barge, they can be used to help balancing the electricity grid. Balancing electricity supply and demand is essential to increase the resilience of the electricity grid as the share of renewable energy sources, with more variable output, increases.
Bart Hoevenaars, CEO of Zero Emission Services comments: "In the last few years we have gained a lot of experience with our first ZESpacks and docking station, with the purchase of these 20 ZESpacks we will now go for an accelerated upscaling of our innovative system solution for inland shipping. With Ebusco, we choose an experienced, smart and European partner with sustainable and safe LFP battery systems and together we ensure a positive impact on the climate and contribute to solutions for the current energy challenges."
Peter Bijvelds, CEO of Ebusco comments: "We are thrilled to sign this contract with ZES following the earlier tender. We see this as a major step forward in our Energy Storage Systems business which we have steadily built out over the past years. We are proud to work together with the ZES team to help the inland shipping sector to reduce its CO2 emissions. Together we can make an even bigger impact on our road to zero emission transport!"