Unveiling of Ebusco Energy FLEX and more highlights at Busworld
Deurne, 06 October 2023 – Ebusco (Euronext: EBUS), a pioneer and frontrunner in the development of electric buses, charging systems, and energy storage, introduces Ebusco Energy FLEX, a new innovation that combines energy storage and charging, simplifying the way to zero-emission solutions. In addition, Ebusco also presents the real-road consumption of the Ebusco 3.0 and offers comprehensive insights into TCO, sustainability, and fleet monitoring through a series of presentations during Busworld 2023 in Brussels.
During Busworld, Ebusco can be visited at Hall 6 – Stand 603. The company unveils, amongst other things the Ebusco Energy FLEX, an innovative bi-directional energy storage and charging solution. Ebusco Energy FLEX enables the possibility to directly store (renewable) energy and is at the same time designed to minimise invasive construction of an electrical infrastructure. Because Ebusco Energy FLEX is a combination of energy storage and energy supply, no permanent installation has to be installed to provide electric vehicles with (renewable) power.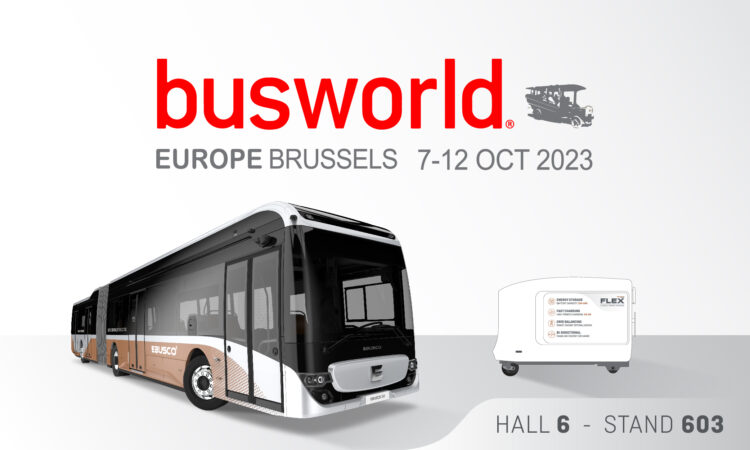 Flexible Energy Exchange
Ebusco Energy FLEX is a self-driving energy storage system that contains a battery capacity of 184 kWh. As the (renewable) energy sector continues its rapid expansion, Ebusco Energy FLEX is stepping up to meet the challenges posed by an overtaxed electricity grid. With the increasing availability of renewable energy sources outpacing the grid's capacity, Ebusco Energy FLEX has emerged as the most accessible solution as it has the option of being directly connected to green energy providers such as solar panels and wind turbines. Ebusco Energy FLEX enables efficient storage of surplus and self-generated energy, ensuring that this energy is readily available when demand peaks. The capacity of 184 kWh and charging speed of 60 kW is sufficient to quickly charge multiple electric cars or recharge a bus in between operations. Implementation and provision of electricity could not be easier, eliminating all reasons to delay electric driving any longer.
Real-road consumption Ebusco 3.0
Ebusco is excited to share the real-road performance of the Ebusco 3.0, which has been in operation for the past couple of months. This data demonstrates an energy consumption of 0.65 kWh surpassing the initial model-based calculations, underscoring Ebusco's commitment to reducing energy consumption and therefore the overall costs for operators. Ebusco also showcases its 3.0 18 metre bus that based on its exceptional weight saving again will exceed all existing boundaries regarding energy consumption.
TCO, sustainability, and fleet monitoring
In addition to the Busworld press presentation scheduled for Friday afternoon at 16:00, featuring Peter Bijvelds – CEO and founder of Ebusco, Ebusco has organised daily presentations at their booth. During these sessions, Ebusco will delve into crucial subjects like sustainability. Furthermore, guest speakers will be joining Ebusco to provide valuable insights on topics such as real-time data and fleet management. In addition, the topic TCO – Total Cost of Ownership, which has always been Ebusco's focus, is further analysed and underpinned by the innovations Ebusco has to offer.
Peter Bijvelds, CEO of Ebusco, comments: "Our longstanding goal has consistently been to make electric driving as widely accessible as possible. With the real-road data of the Ebusco 3.0 exceeding our expectations, we could not be prouder. On the other hand, we also see the challenges entailed by the electric transition and are therefore thrilled to introduce Ebusco Energy FLEX, an innovative solution designed to meet the current demand for efficient energy use in the market. We eagerly anticipate showcasing the Ebusco 3.0 12 and 18 metre and Ebusco Energy FLEX at Busworld and can't wait to welcome you there!"