Current partnership extended until 2026
Deurne, 10 October 2023 – Ebusco (Euronext: EBUS), a pioneer and frontrunner in the development of electric buses, charging systems, and energy storage, remain to be the primary supplier to Deutsche Bahn for its 12- and 18 meter electric buses until 2026.
The initial framework was signed in April 2022 and went into effect from 2023 until 2024. With this signing, the optional extension for 2025 and 2026 is officially confirmed. The framework agreement relates to the delivery of battery electric Ebusco buses.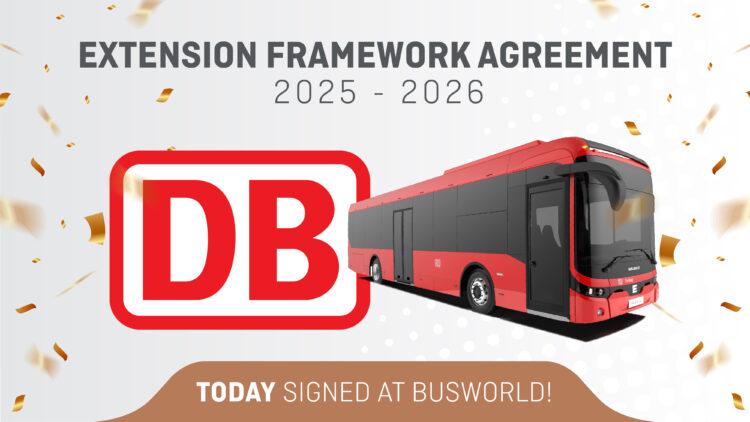 Orders through framework
Through the framework, multiple orders have been placed for the Ebusco 2.2 Model buses already, which will be deployed in more than 10 different projects. Out of those orders, multiple buses have already been delivered and hitting the roads. In addition, the companies are in final discussions for firm orders soon, which will bring the total so far to over 100 buses.
Mutual trust
With this extension, Deutsche Bahn shows their trust and confidence in moving forward together. With the acceleration in terms of electric bus procurements and Deutsche Bahn's strong market position in Germany, we look forward to supplying many more zero emission buses. To date, Deutsche Bahn has only ordered Ebusco 2.2 buses, however, the contract also gives the possibility to order Ebusco 3.0 buses, this way Deutsche Bahn can offer the best possible solution tailored to the requirements of the different principals.
Patrick Oosterveld, Sales Director at Ebusco comments: "It has been great to consistently work with Deutsche Bahn and build a partnership in which we can both rely on each other.We are very proud to have been selected as a supplier of electric buses until 2026 and expect two more fantastic years in which we will make a major contribution to emission-free transportation in Germany."