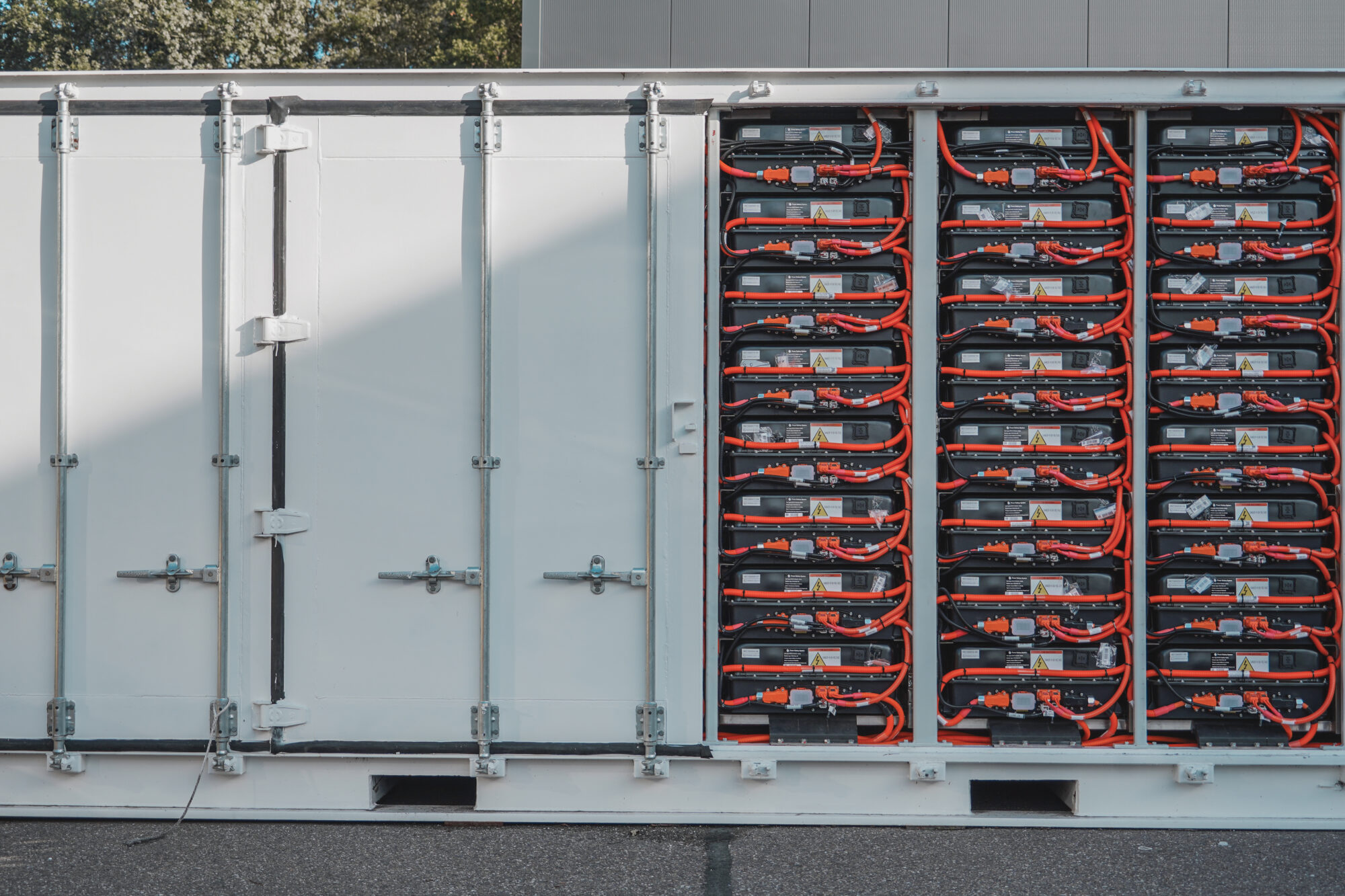 The power of a complementary EV ecosystem
Building on its experience with heavy-duty batteries, Ebusco is offering a complete package regarding electrification. With Ebusco Energy, provisions are made toward a more sustainable energy supply that is designed for the future. In a world where we are depending on energy supply, we do not only feel the need to act, but also feel responsible to steer towards sustainable, clean, and renewable energy solutions.
With the increasing demand on the power grid and the need to switch to green energy, the time to make an impact is now. With Ebusco Energy, solutions are offered that accelerate the transition to sustainable energy while simultaneously solving the challenges that this transition entails.
ESS
Energy Storage System
These multipurpose Energy Storage Systems are applicable for all.
With the different configurations, this system is suitable for low- and high-volume users and enables several possibilities in its deployment.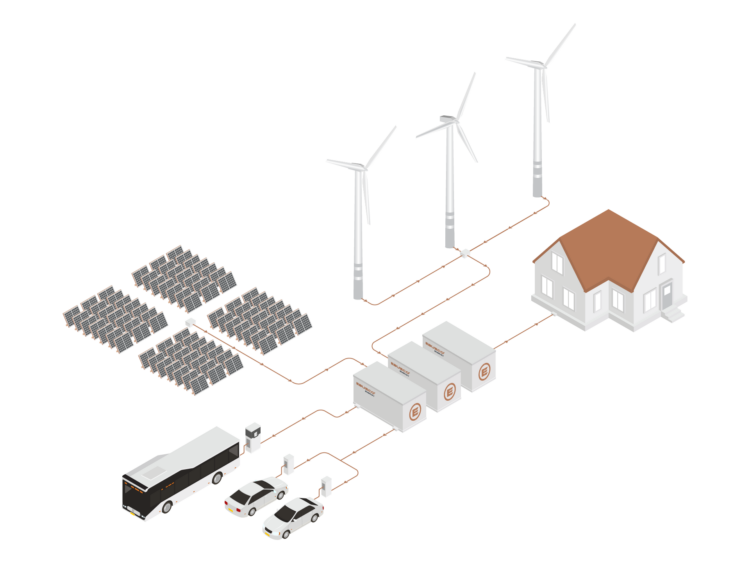 Storage
Due to the growing demand on the power grid, we now face the challenges of an overloaded network. To optimize the use of green-generated power, this energy system will be able to store (green) energy when it is redundant and release it when the need is there. This way, green energy can be used to the fullest and no energy is wasted.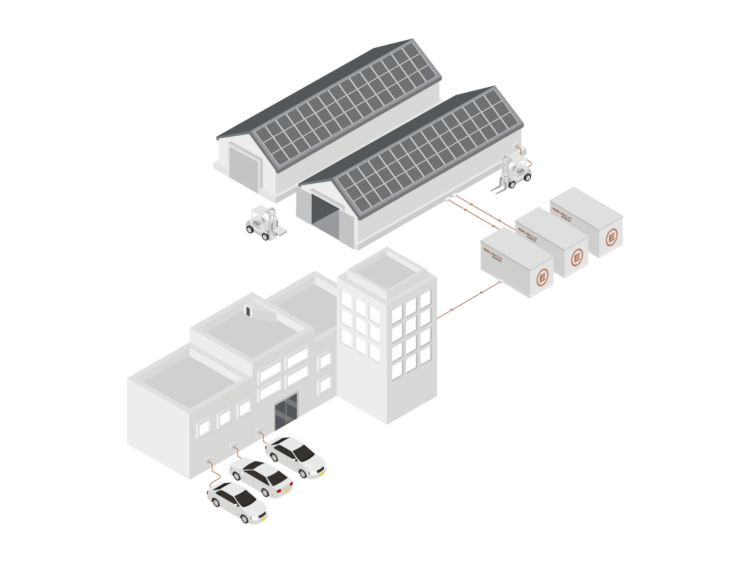 Self-sufficient
With an Energy Storage System, you will be completely self-sufficient, and assured of power, regardless of the time and state of the power grid. Paying for energy is no longer needed, making this storage system a smart investment for both you and the earth.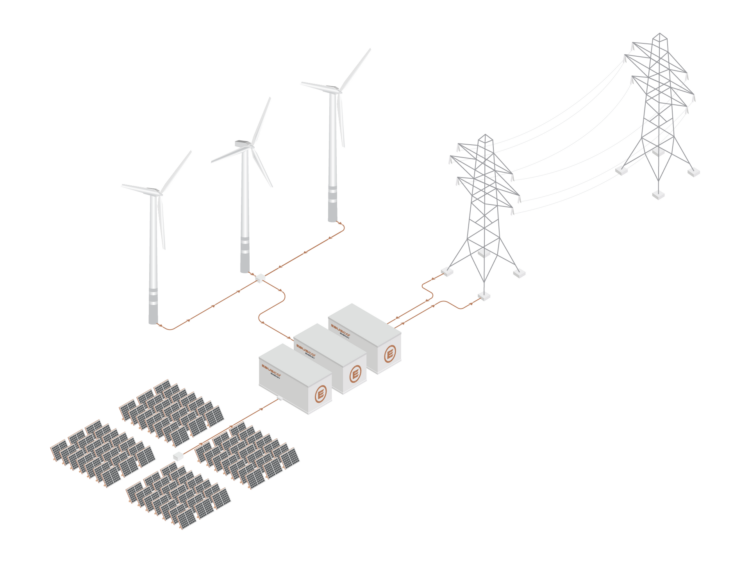 Energy trade
When there is an abundance of (green) energy and power consumption is low, prices are reduced. When power is scarce and the consumption high, prices rise. To benefit from these market shifts, electricity can be bought at a low price when there is a surplus, stored in an energy storage system, and sold again when the demand rises. By doing so, you relieve the grid and can supply power when others need it.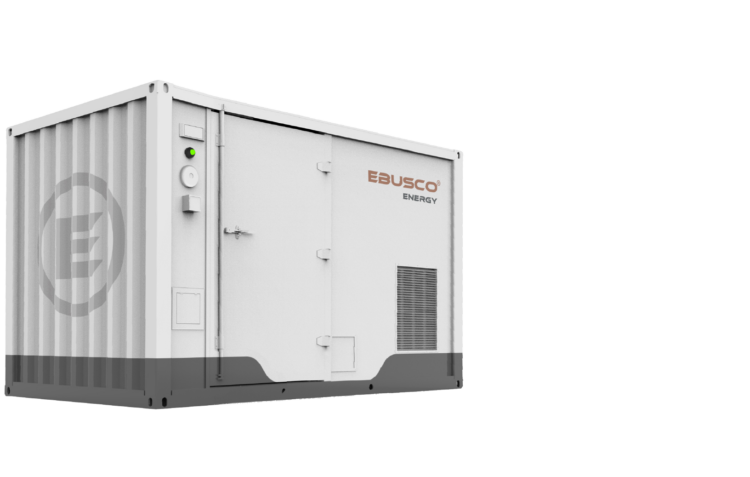 10 foot
10ft –  614kWh / 250kW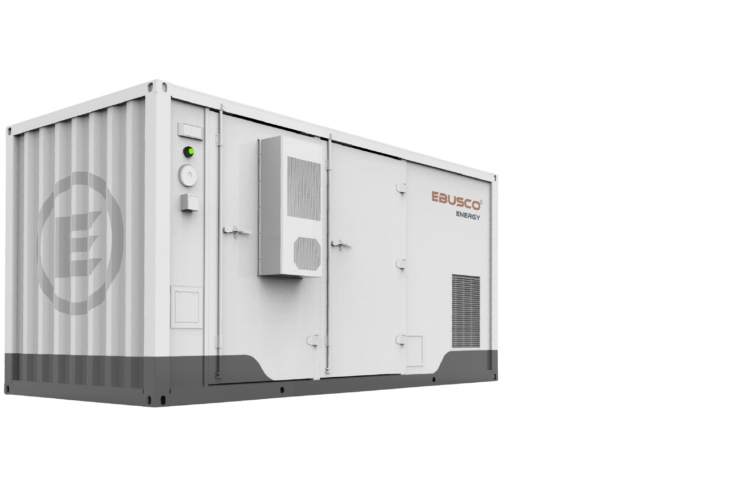 20 foot
20ft –  1228kWh / 500kW
20ft –  1842kWh / 750kW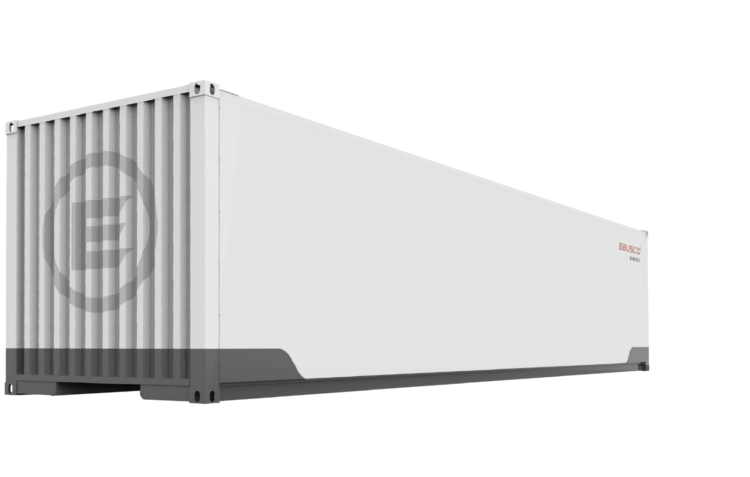 40  foot
40ft –  2456kWh / 1250kW
40ft –  3070kWh / 1500kW
40ft –  3684kWh / 1750kW
Maritime sector
Zero emission is the future. Not only on land but also on water. With shipping being one of the most polluting sectors in the world, there is plenty of room for improvement. With some modifications in the existing ships, propulsion can be made hybrid or 100% electric. This in combination with a mobile energy container and your ship, vessel, or yacht will be future-proof for many years to come.
Ebusco Maritime Batteries
Ebusco Energy offers marine certified batteries, on pack to rack level complete with it's own complementary Battery Manage System (BMS). The batterypacks are scalable as per 30.24kWh.
MEC
With Ebusco's Mobile Energy Container (MEC) maritime batteries can also be offered in a containerized solution up to 5.8 MWh, with optional charging facility to offer shore power to large vessels.
Configurations
20ft containerized solution – 2900 kWh
30ft containerized solution – 4400kWh
40ft containerized solution – 5850kWh
Charging solutions ranging from 250kW to 1000kW
ZES – Zero Emission Services
All-in concept for emission-free inland shipping.­
Ebusco Energy has supplied ZES with Mobile Energy Containers system to make inland shipping more sustainable. ZES offers a complete product and services package for emission-free sailing based on exchangeable battery containers with green electricity, charging stations, technical support and an innovative payment concept for barge owners.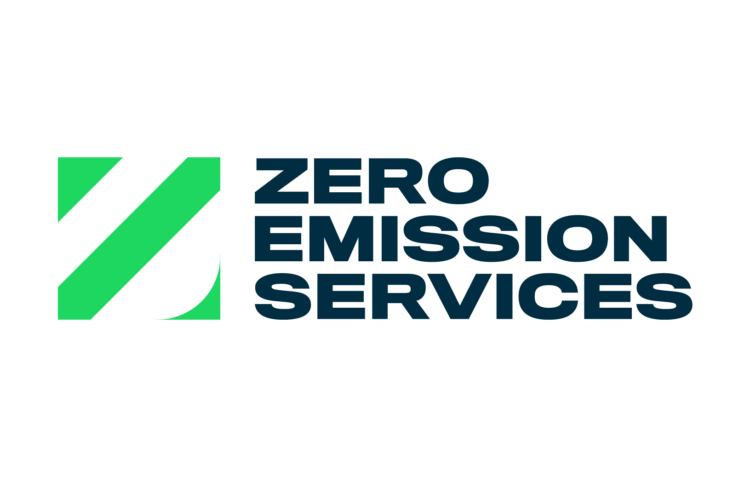 Toy Champ
Toychamp is the number one toy shop in the Netherlands and Belgium with dozens of shops. They believe in the experience and guarantee this with shops between 1,400 and 2,000m2 in size. But Toychamp is contributing to the future of the younger generation in more ways than just with toys. Therefore steps have been taken to provide all shops with green energy. Ebusco's ESS containers are used to store self-generated energy, to power the shops at any time. Sustainable and future-proof, that is how Toychamp keeps its lights on for future generations.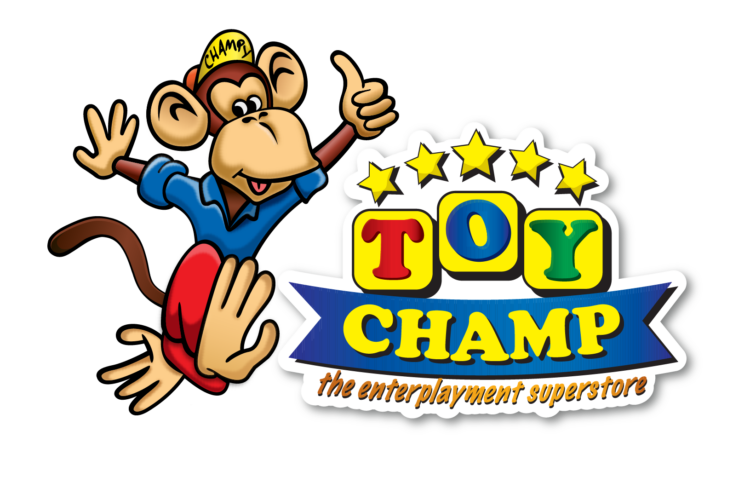 Emmet Green
Emmett Green is an innovative company driving the energy transition. For this complex transition, they combine deep knowledge of electrical engineering, heat, hydrogen, batteries, finance, IoT and algorithms, project management and asset control within one company. With the ESS units from Ebusco, Emmet green saw an opportunity to support various parties in challenges that have arisen on the electricity grid. This way, they are relieving the grid and allowing for green power to be utilized optimally.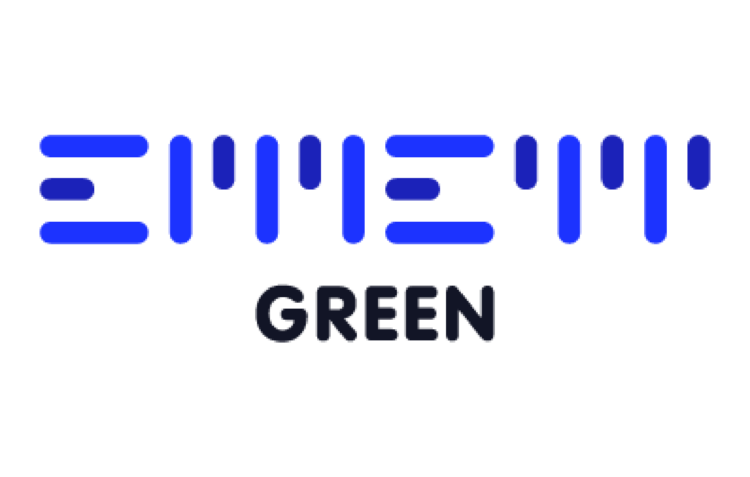 Chris Boeren
Sales Associate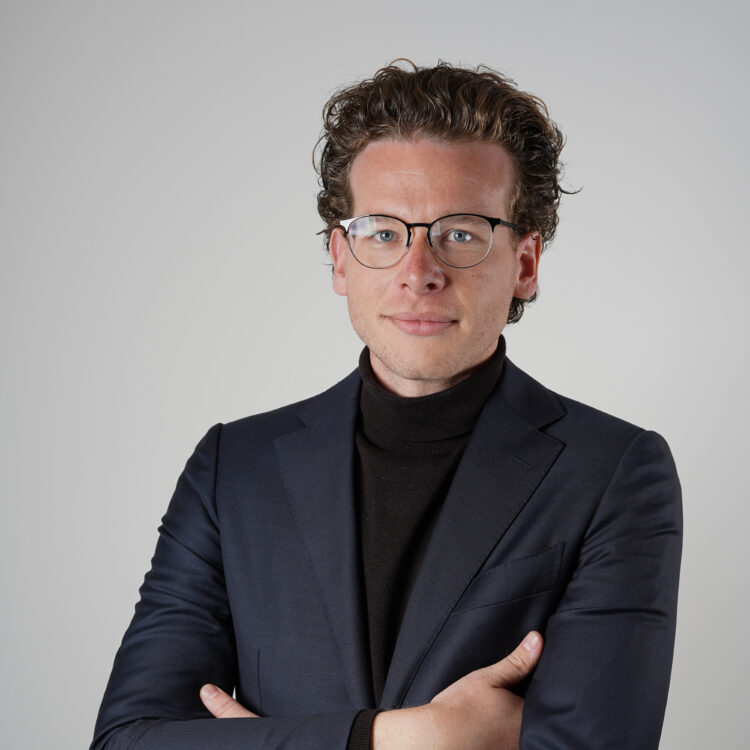 Steven van der Burg
Sales Director