Ebusco signs with Multiobus, once again reaffirming the trust between the two parties

Deurne, 09 October 2023 – Ebusco (Euronext: EBUS), a pioneer and frontrunner in the development of electric buses, charging systems, and energy storage will, once again, sign a contract with Multiobus for 20 Ebusco 2.2 buses. Multiobus is a long-lasting partner that from the early years of Ebusco has shown its confidence through several orders.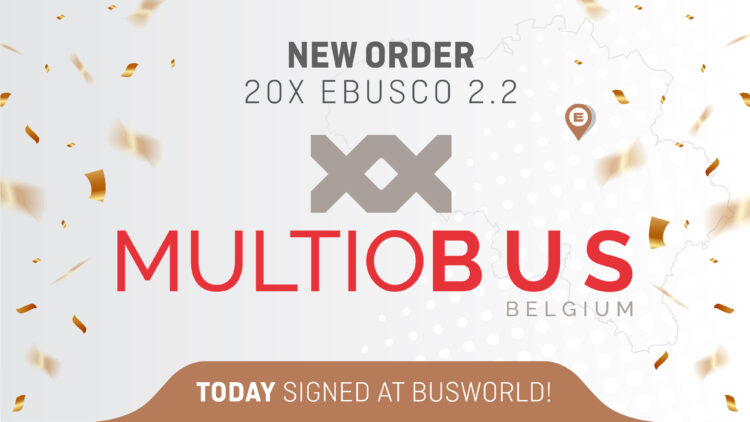 Today, Ebusco and Multiobus will sign a contract for 20 new Ebusco 2.2 buses at Busworld in Brussels, the largest bus exhibition in the world. This exhibition holds special significance due to its location since Belgium will soon become the home country for the 20 ordered buses. The 20 Ebusco 2.2 buses will be equipped with a battery pack of over 400 kWh, will have a low floor configuration, and will accompany the Multiobus fleet which already consists of several models of Ebusco. The in total 36 Ebusco buses will be operated by Multiobus but will be driving under the name of De Lijn, Belgium's largest public transport authority. Together, these buses will form the transport around Tienen – Belgium.
Follow up orders
Ebusco and Multiobus embarked on their electric journey together from the very beginning. In 2017, Multiobus took a significant step by becoming one of Ebusco's early clients, acquiring an initial fleet of four Ebusco 2.1 buses. Their dedication to zero emission transportation became evident in 2020 when they placed an additional order for ten Ebusco 2.2 buses, reaffirming their satisfaction and trust in Ebusco's products.
Following the introduction of the Ebusco 3.0, Multiobus recognized the potential of this lightweight innovation and placed an order for two Ebusco 3.0 buses, which are currently in production. Now, with specific configuration requirements, and the already proven concept of the Ebusco 2.2, Ebusco and Multiobus are once again collaborating to provide sustainable and affordable transportation. Since the Ebusco 2.2 model has shown to be highly competitive in terms of TCO – Total Cost of Ownership, Multiobus ensures itself of an ecologically and economically choice.
Olivier Van Mullem, CEO at Multiobus, comments: "We've had a longstanding partnership with Ebusco, and their unwavering dedication continues to leave us impressed. Our belief in the future of electric mobility has been steadfast, and like Ebusco, we've faced scepticism for our commitment to this vision. Now, six years since our initial collaboration with Ebusco, we stand even more firmly behind our shared philosophy, hence this new order and extended partnership."
Brad van de Kerkhof, Account Manager Benelux at Ebusco comments: "We are immensely proud of the cooperation with Multiobus and are grateful for their trust and friendship over the last years. We admire Multiobus immensely as they bravely took  the lead in the transition towards zero emission transportation and we are looking forward to many more years of collaboration"