In mid-2021, Ebusco will deliver another ten new electric buses in Belgium. Multiobus has ordered these 10 Ebusco 2.2 buses for Flanders' inner-city and regional traffic in the Flemish Brabant region. De Lijn's subcontractor is keen to show that now is absolutely the right time for Zero Emission buses (buses without harmful emissions). These ten buses will be added to the two Ebusco electric buses that Multiobus has been running in Tienen & the surrounding areas for almost 2 years now. These buses contribute to cleaner and quieter bus transport in Flanders.
From the spring of 2021, ten brand-new electric Ebusco buses will run in the Hageland and the east Flemish-Brabant region, and all under De Lijn's banner. With this, Multiobus is once again demonstrating that Belgium is absolutely ready for clean and silent bus transport. Multiobus even generates the power for the electric buses itself, using its own solar panels.
A major contribution to Belgium's climate goals
With these buses, Multiobus is making an important contribution to the challenging climate goals that Europe has set for Belgium. By 2030, CO2 emissions must decrease by 35% compared to 2005. These 100% electric buses do not emit any CO₂, NOx or fine particles. The result is a 1 kg reduction in CO₂ per kilometer driven by each bus. Based on these figures and including the two buses that are already driving around, this is expected to reduce CO2 by 1000 tonnes per year.
These new buses are bursting with innovation
Multiobus is the first operator in Belgium that no longer fits mirrors to its buses. Mirrors have been replaced with smart camera systems to ensure optimum safety for passengers and other road users. Blindspots are made even more visible and the infra-red functionality ensures crystal-clear images at night. The drivers are extremely satisfied with electric driving and the high level of comfort in these electric buses: the reduced noise when driving, the absence of smelly diesel and high sustainability are a real bonus. And there's no shortage of passenger comfort: these buses have USB ports and WiFi throughout.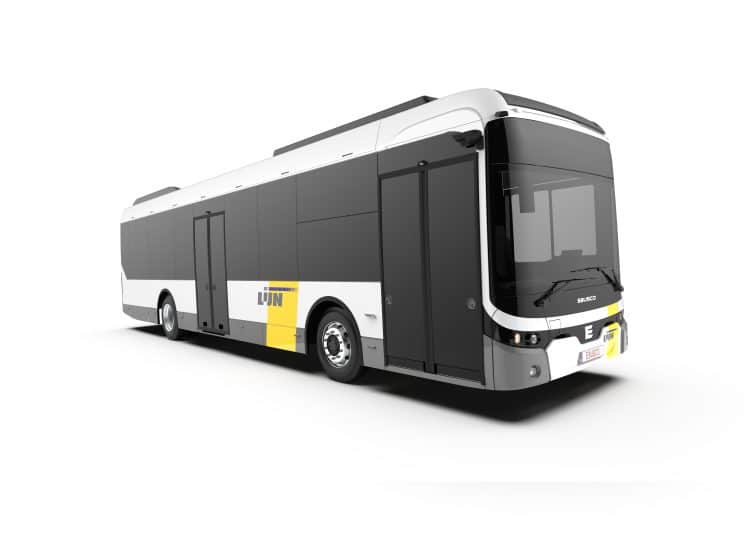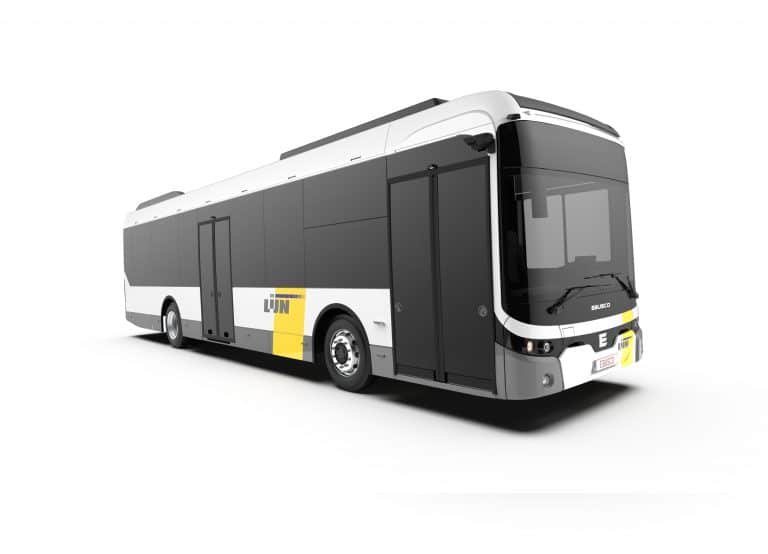 Faith in our Northern Neighbours
With this, Multiobus is expressing its confidence in Ebusco, the Dutch pioneer in electric bus transport. In mid-2018, Ebusco already supplied two 100%-electric buses to Multiobus. At the time, it was big news in Belgium. These buses have now been on the road for 2 years with proven success: they can carry 90 passengers and drive an average of 250-350 kilometers per day on one battery charge. The buses are then recharged in the depot overnight.
Flexible bus charging
One of the reasons Multiobus has chosen Ebusco to be its supplier again, is the large battery range these 100%-electric buses have. These extremely reliable vehicles can drive as far as 350 km before needing to be recharged.
Furthermore, it is possible to re-charge these vehicles using the inverted pantograph on the bus roof. This gives the additional option of using these vehicles' greater range. Then they can easily complete a full day shift and it provides extra flexibility when the electric buses are deployed on a range of bus lines. The line pattern is so spread out that depot-charging is the most cost-effective way to charge the vehicles. This makes a considerable difference to charging time and the size of the investment required in charging infrastructure.
Olivier van Mullem, CEO Multiobus; "We generate our own electricity with solar panels, charge the buses smartly with Powerpacks overnight, and because of the large battery capacity, the buses can run all day without having to be recharged in the meantime. As a result, the TCO (Total Cost of Ownership) of this electric Ebusco bus must be almost equal to the traditional diesel bus ".

Peter Bijvelds, CEO Ebusco; "We are applying the latest innovations in areas such as battery technology and charging infrastructure. The LFP-battery technology in these buses is the best and safest battery on the market. Multiobus will simply charge its buses by plugging them in at the depot. The combination of all these innovations means these buses can easily travel 350 km on one battery charge. "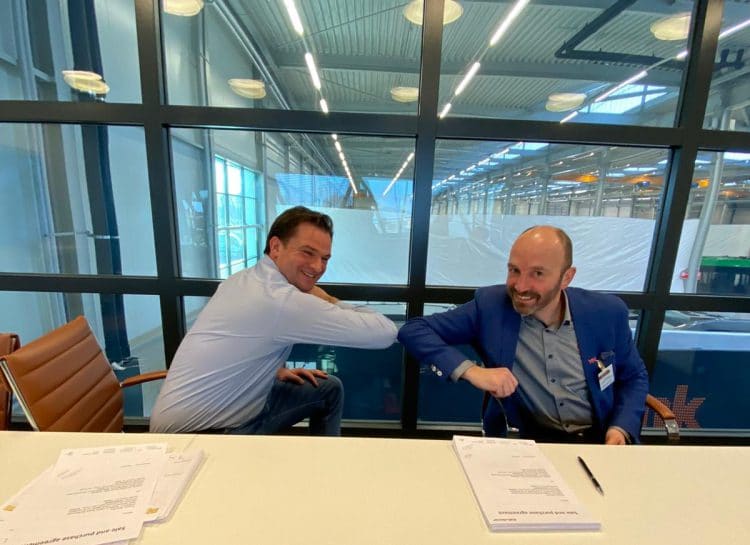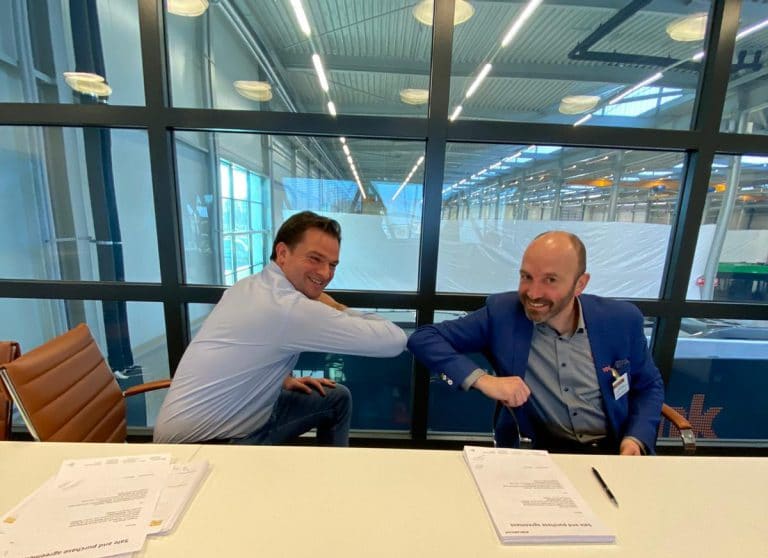 Signing the contract (safely with a Corona-time elbowshake) Peter Bijvelds (CEO Ebusco) and Olivier van Mullem (CEO Multiobus)