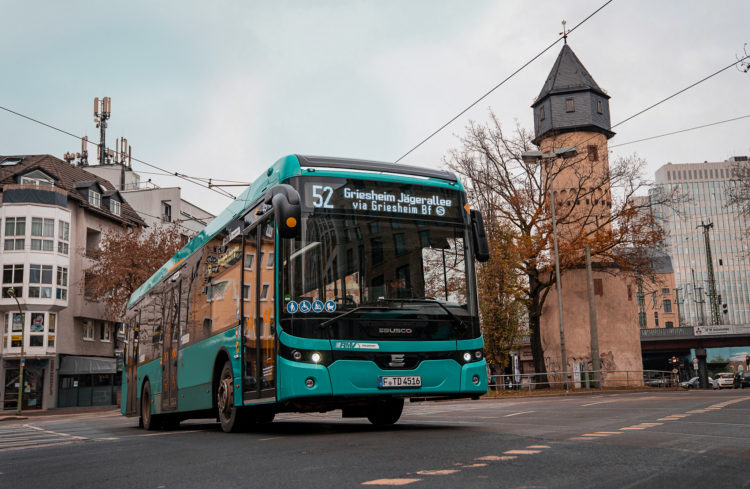 In the space of a week, Ebusco is delivering multiple buses to Transdev in Frankfurt as well as to Nobina in Copenhagen, meaning a great week for Ebusco as well as a giant step towards sustainable transport in Europe.
Transdev/Alpina – Frankfurt
Ebusco has been a proud partner of Germany's largest private mobility provider, Transdev, for some time. Last year, Ebusco delivered its first batch to Frankfurt. As of the end of 2021, these buses have driven close to 1 million kilometres, with a corresponding reduction in CO2 emissions. Like the first batch, the second batch is for 12 Ebusco 2.2 low-floor 12-metre buses. ­The buses will help Frankfurt achieve its goal of having 100% emission-free buses by 2030.
Transdev chose Ebusco because of its long range of buses that do not need to be charged in between. This reduces overall operating costs due to the charging infrastructure and the reduction in the number of times buses need to be charged.
Nobina – Copenhagen
Nobina is due to receive the first of four orders. This order is for 13 Ebusco 2.2 low-floor 12-metre buses. In the coming year, Ebusco will work on the next three orders, making a total of 79 zero-emission buses. With these orders, Nobina is playing a major part in Denmark's ambitious plans to cut 7.2 million tonnes of CO2 by 2030.
In addition, Nobina has ordered a number of Ebusco chargers. These are 150 kW chargers that give the operator the ultimate flexibility of being able to adjust the charging speed. For example, one plug can charge 150 kW or two plugs can charge 75 kW. This gives Nobina the freedom to adjust charging times to ensure ultimate route planning and, at the same time, best manage the life of the battery pack. Therefore, Ebusco is providing emission-free buses as well as supporting Nobina in setting up its EV infrastructure in Denmark.